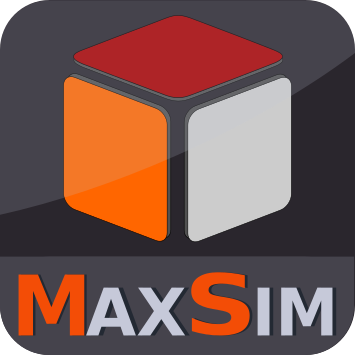 MaxSim is an efficient tool for EMC analysis of complex large systems with a user-friendly and productive 3D interface. It is focused on creating electromagnetic scenes for computation with a FDTD method and is able to integrate between 3D modeling tools (CAD) and data analysis tools.
MaxSim handles existing geometric data from the industrial process
Creation of electromagnetic scenes for computation thanks to the FDTD
method
Full definition of EM simulation parameters (materials, apertures, sources)

Complex simulation scenes are obtained after a performing combination of multiple data sources 

Easy geometry import and structuration from usual mesh formats according to calculation objectives
Offers a useful mesh analysis tool set like connectivity of elements.
Adaptable to any FDTD code by configuring specific parameters (SDK)
MaxSim brings knowledge on meshes for the FDTD numerical computation
High performance generation of structured meshes in orthogonal hexahedra

Flexible configuration, suitable for small and very large grids

Management of mesh life cycle

Benefits of hardware acceleration and High 3D rendering capabilities
Semi-automatic control to ensure meshes are meeting the expectations
Analysis and modification of the FDTD Meshes
Cleaning of imperfect structured meshes
Local interactive modifications of the mesh
Tools to detect hypothetical flaws (duplicated elements, holes detection, …) and electrical connectivity (free edges and connection edges, thin wire
boundaries, …)
Number of elements reduction
MaxSim grants an optimized definition of the simulation and visualization parameters 
Flexible geometry: association of models : materials, slots, gaskets,…
Advanced management of wire structures and related models
Definition and verification of simulation parameters : time and
frequency conditions, stability criterion, …
Management of boundary conditions : Perfect or real ground, free space
conditions (PML, ML, …), …
Sources : plane waves, local voltage or current generators, antenna models
Output requests :

Radiated outputs (Electric and magnetic fields, radiated power, …) on
localized probes or on virtual supports or surfacic parts of the structure
Conducted outputs (voltage, currents, power, …) on localized probes or
surfacic parts of the structure
Radiation patterns
Do you have any question about our services?