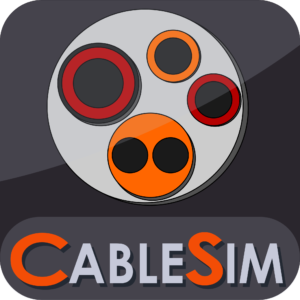 CableSim® is a cable harness modelling environment for electromagnetic compatibility (EMC) and electromagnetic interference (EMI) analysis adapted to large network architectures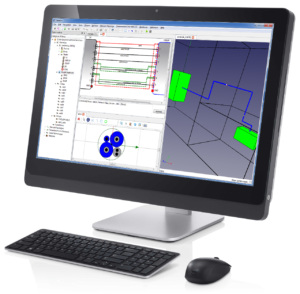 CableSim overview
By providing a powerful cable harness model, CableSim takes care of verification and transformation steps to generate a reliable multiconductor transmission line network (MTLN) simulation and then manages simulation processes and results exploration.
The MTLN simulation is performed by the CRIPTE code developed by the ONERA DEMR Team.
CableSim cable harness description is mainly defined by:
Devices & connectors (Bonding, pin's common mode impedance definition, differential impedance properties between pins, generators, …)
Cables (connecting pins together)
Over-shields
Bundle segments (routing cables together)
Bundle segment junctions (they are bundle segment crossroads)
Installations (Bundle segment metal supports and ground reference)
Geometry (this is the 3D route of the cable harness)
Cable harness components can be visualized and explored in several editors / views :
3D view (devices, connectors and bundle segments routes);
Schematic view (conductor connection at connector pin);
Bundle segment section view
Cable harness components editors
Cable technology editor
etc
Advanced EMC / EMI features
CableSim offers many abilities
Bundle segment section computation (computation of conductor location in the cable bundle section)
RLGC matrices computation on GPU (if available)
Validation of the cable harness architecture to assure the MTLN generation
Independant bundle segments can request to be computed in the same MTLN tube
etc 
Thanks to the schematic view, one can visualize conductor connection at connector, this allows to differentiate:
A shield conductor
A signal conductor
The bonding technology of shield conductors (peripheral or pigtail)
Shielded conductor are enclosed in their shield conductor
Unused pin
etc
2D (schematic) and 3D views are linked so when a conductor is selected in the schematic view, the crossed bundle segments are blinking in the 3D view.
Bundle segment section view is very useful to visualize conductors arrangement in each bundle segment.
Databases
CableSim provides a database framework. The default databases are material and cable technology databases. The cable technology database relies on material data, it stores cable technologies furnished with CableSim and created by the user, cable technologies can the be used in any project.
CableSim's cable technology editor permits to define a cable technology with elementary pieces (conductor, shield, dielectric sheath, dielectric cylinder, …)
There is no number limit for cable elements or cable shield levels. Materials, conductors and shield properties can easily be selected. A graphical tree shows the hierarchical order (sheath, shield and conductors) of the structure.
A validation framework
CableSim offers a validation framework based upon a rule engine philosphie, the engine logs information, warnings and errors detected in the cable harness, some are reported hereafter:
Connector pins with no common mode impedance
Shield with no bonding
Cable with no crossing bundle segment
Undefined bundle segment extremity
Bundle segment with no generated section
No computed RLGC matrices
Cable with no mathing technology
Etc
Use CableSim on any desktop computer
CableSim® supports 64-bit systems: